Blue Topaz is December's birthstone. It is also Saggitarius' Zodiac Gemstone and Friday's Day-Of-Birth Gemstone.
Blue topaz gemstones are said to enhance one's communicative abilities, helping to more easily and clearly express oneself.  It is believed that blue topaz will enhance one's spiritual potential, to increase inteligence and creativity, and to impart wisdom and wealth.
Gorgeous Blue Topaz ranges from lighter hues called sky blue topaz to darker hues called london blue and swiss blue topaz.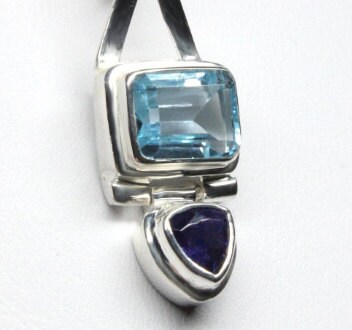 Blue Topaz and Iolite Gemstone Pendant
Above, the emerald-cut blue topaz gemstone is paired with a dark blue iolite trillion cut gemstone... a beautiful combination!
----------------------------------------------------------------------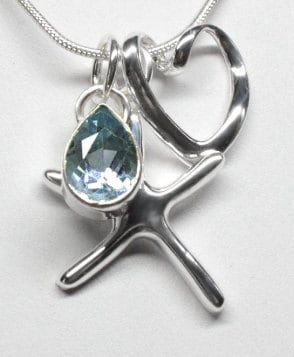 Sky Blue Pear Cut Blue Topaz with Starfish and Floating Heart Charm Necklace
Above, a pretty charm necklace includes a pear-cut faceted sky blue topaz gemstone with a sterling silver starfish and a floating heart.  Wear one, two or all three.